Why choose Balance
Located on the downtown square, our studio received national recognition for innovative design and renovation completed in 2008. Bringing a metropolitan studio feel, Balance showcases an appearance not found in other area gyms. Our Pilates and fitness offerings are as unique as the look of the studio itself.
Sports Nutrition and Weight Loss
Having a full time registered dietitian on staff offers clients a distinct advantage over training at other facilities. Whether you are looking to lose weight or gain a competitive advantage, Kelly Gill will help you achieve that goal.
World-Class Pilates
Balance has assembled an extremely well-credentialed team of Pilates instructors. This enables us to offer Pilates to anyone from professional athletes to busy grandmothers. Upon completing a session, our clients feel lengthened, strengthened, and refreshed.
Strength Training Meets Science
Bringing an entirely new approach to group training, our "Project" classes offer an intense and effective training environment while remaining safer than a typical "box" gym. By manipulating your workout with timed rest periods, we keep your body in a fat burning state for hours after a workout.
Want to learn more
Frequently Asked Questions
Q: Do I have to pay a monthly membership?
A: No, our group fitness classes are a month to month auto payment, but they can be cancelled at any time. Our Pilates and personal training can be paid either per visit or clients can purchase a punch card, typically 4, 8, or 12 visits per punch card, good for an entire year.
Q: How many people are allowed in each class?
A: Our group training classes are capped at 10 people maximum, sometimes less. Our Pilates classes are kept much smaller, typically around 4 or less per class. This is to create a much more personal environment for our clients. We do not want to give up the quality of our training just to cram 20 people in a class for cheap rates.
Q: Do I have to pay extra to utilize the registered dietitian?
A: Kelly, our registered dietitian, comes free to all of our group training clients. We offer Kelly as a bonus to clients to help them achieve their goals. Much of our clients results happen away from the gym, via the fork and spoon. Fitness facilities forget the nutritional aspect of their clients' lives; we do not.
Q: What kind of athletic training can you offer my child?
A: Our athletic training is taught by a former NFL level athlete, Martel VanZant, and a former collegiate level athlete, Paul Robinson. The training focuses on all aspects of athletic performance. Teaching the athlete to become more explosive, powerful, and how to properly recover, are our main areas of expertise. By working with our trainers and registered dietitian, our athletes are provided with a roadmap for success. We provide training for all sports.
Q: What is the difference between Pilates and Yoga?
A: Pilates is often described as Yoga with resistance, typically springs. In Pilates there is less holding and breathing and more elongating and moving through movements. If you enjoy Yoga, you will definitely enjoy Pilates. If you have never tried Pilates, it is much less intimidating than it seems. We have clients ranging from young athletes up to senior citizens.
Q: What is the affiliation with Texas Spine & Joint Hospital?
A: Texas Spine & Joint Hospital has managed Balance since 2015 as part of the upcoming Sports Medicine program they will be opening.
Q: Do you accept insurance?
A: We do accept most forms of insurance for nutrition consultations. Insurance reimbursement for Pilates rehabilitation is coming soon.
Q: May I work out on my own without a trainer?
A: No, we do not currently offer open gym time for clients, although we do allow clients to use our Peloton bikes and WaterRowers throughout the day on their own. Pilates equipment can be difficult to handle unsupervised, so we do not allow our clients to work out on their own. The weight lifting area upstairs either has personal training or group classes scheduled. In order to keep those arrangements free of extra traffic, we do not allow open gym times.
How Much Does It Cost?
Pricing Tiers and Benefits
Monthly Fee
Group Fitness
The most efficient way to burn fat, our "Project" group classes offer you scientifically proven training methods, as well as full access to our on staff registered dietitian.
Starting Per Month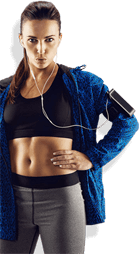 Pilates
Giving you the largest selection of Pilates equipment in the area, Balance provides you with personalized Pilates training tailored to your needs.
Per Class