Why choose Balance
Located on the downtown square, our studio received national recognition for innovative design and renovation completed in 2008. Bringing a metropolitan studio feel, Balance showcases an appearance not found in other area gyms. Our Pilates and fitness offerings are as unique as the look of the studio itself.
Sports Nutrition and Weight Loss
Having a full time registered dietitian on staff offers clients a distinct advantage over training at other facilities. Whether you are looking to lose weight or gain a competitive advantage, Kelly Gill will help you achieve that goal.
World-Class Pilates
Balance has assembled an extremely well-credentialed team of Pilates instructors. This enables us to offer Pilates to anyone from professional athletes to busy grandmothers. Upon completing a session, our clients feel lengthened, strengthened, and refreshed.
How Much Does It Cost?
Pricing Tiers and Benefits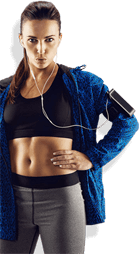 Pilates
Giving you the largest selection of Pilates equipment in the area, Balance provides you with personalized Pilates training tailored to your needs.
Per Class